Troubleshooting an induction cooktop
Nov 22, 2022 Author: A. Ivanova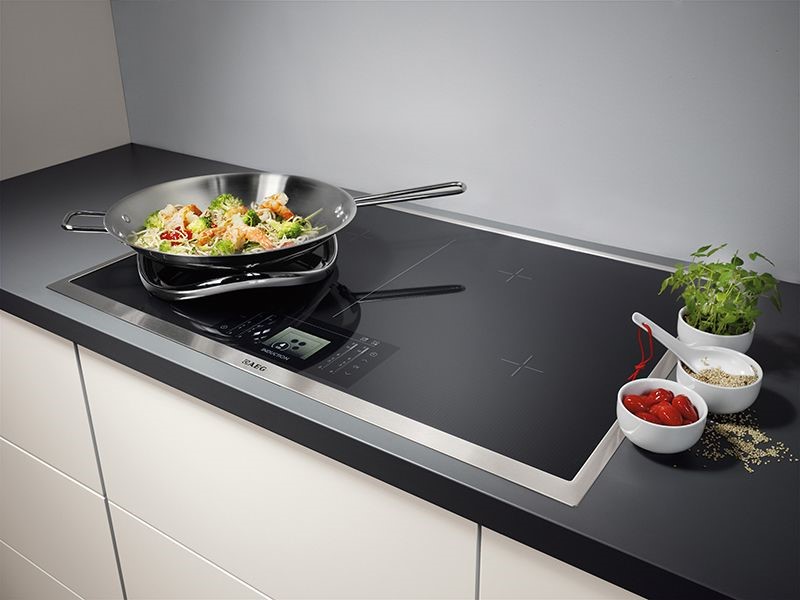 Nowadays, more and more induction cooktops are being installed in kitchens. Logically, this also increases the number of possible defects in these appliances. Therefore, the repair of induction cooktops is becoming more and more relevant for home craftsmen who want to do it themselves. However, the repair possibilities are more or less limited, depending on the knowledge of the specialist.
Possible damage to an induction cooktop
In the mid-1990s, glass-ceramic cooktops with halogen lamps or heating spirals quickly became market leaders. Now, ceramic cooktops were no longer as easy to repair as they had a lot of electronics built into them. So it's no wonder that the causes of malfunctions of induction cooktops have become so varied. Some of the most common malfunctions include the following:
Cracked glass ceramic cooktop;
Short circuit due to improper electrical connection;
Burned out circuit board due to a short circuit;
Faulty capacitors;
Blown fuse;
Lack of turbo performance for maximum cooking power.
The list of possible malfunctions, of course, is not exhaustive. Repairing an induction cooktop for most reasons is complicated and requires a high level of knowledge.
A burned circuit board
If, for example, the circuit board burned out, the cause may be quite different. Most likely, the conductor construction in question was too tight. Therefore, another error caused the board to overheat and deform. To rule out such a situation or to confirm your suspicions, you need to measure the entire electronics of the furnace. But you can do without this.
One such control board is installed for each cooktop. If the driver suddenly stops working, suspicion of the cause may come down to the circuit board. Since they don't cost very much, you can simply install a new part without having to check the entire electronics of the ceramic cooktop.
Blown fuse
If the fuse blows, there are several possible causes. The first is to check the basic and simple options:
Can fluids leak between the cooktop and countertop?
Did the fuse blow immediately after the initial installation?
Maybe the ceramic hob is cracked?
Were all four or five burners working at the same time and perhaps even at maximum?
Differences in induction hobs from different manufacturers
In the case of cheap appliances with a glass ceramic hob from an unknown manufacturer, it is possible that all hobs are protected by only one fuse. Then at maximum load, the temperature can rise quickly and melt the fuse. Basically, the same applies to a blown fuse: it does not blow for no reason, so you need to find the cause of its triggering.
Turbo Boost does not work or works to a limited extent
It is also not uncommon to find that the maximum heating power (Turbo Boost or similar) is missing. First of all, it depends on how the induction hob was connected. Since these products are now very common among consumers, manufacturers must take into account the differences in energy resources that exist in different countries.
The first step is to check that the wiring is correct
Therefore, the wiring rules usually assume at least three wiring diagrams:
230 VAC (bridge connection, connection to one phase, N and PE);
400 V three-phase (two burners on one of the external conductors L1, L2, or L3 and N and PE);
130 V connection and/or 220-240 V connection.
This is confusing because the 230V bridge connection is usually already prepared. Therefore, DIY specialists also assume that an induction cooktop can be wired this way if necessary. This connection method is simply a compromise for power grids that do not have a 400V three-phase connection.
Error in the electrolytic capacitors
However, if the error occurs in the same way on all hobs, the first thing to check is the electrolytic capacitors. Depending on the model, they should ensure that the induction coil receives stable power even when boosted. Here (measurement of capacitors), however, again very clearly in the direction where appropriate special knowledge is required. Therefore, we cannot give a more detailed description here (otherwise it may happen that non-specialists will try).
Crack in the glass ceramic hob
If there is a crack in the cooktop, this also determines whether it is really worth repairing it. Even if you have ceramic cooktop insurance. Because each year as your cooktop ages, the insurance company deducts an average of 10 percent of the cost. After only 5 years, you'll only be reimbursed for half. You should also insure your home contents, including glass and glass ceramic stoves.
Tips and tricks
Repairing an induction stove is not always easy, even for an experienced do-it-yourselfer. If necessary, you should still consider replacing the faulty cooktop with a new ceramic cooktop.